There are two times of the year where families can gather and spend quality time together: Xmas and Summer Holidays.
While some love to enjoy the day by the swimming pool, others love to prepare unforgettable meals for the whole family or find a reading corner to nestle with a nice pile of books. And of course, everybody needs privacy. Because hospitality is our specialty, we've prepared a list of five stunning villas, nothing but perfect for big families.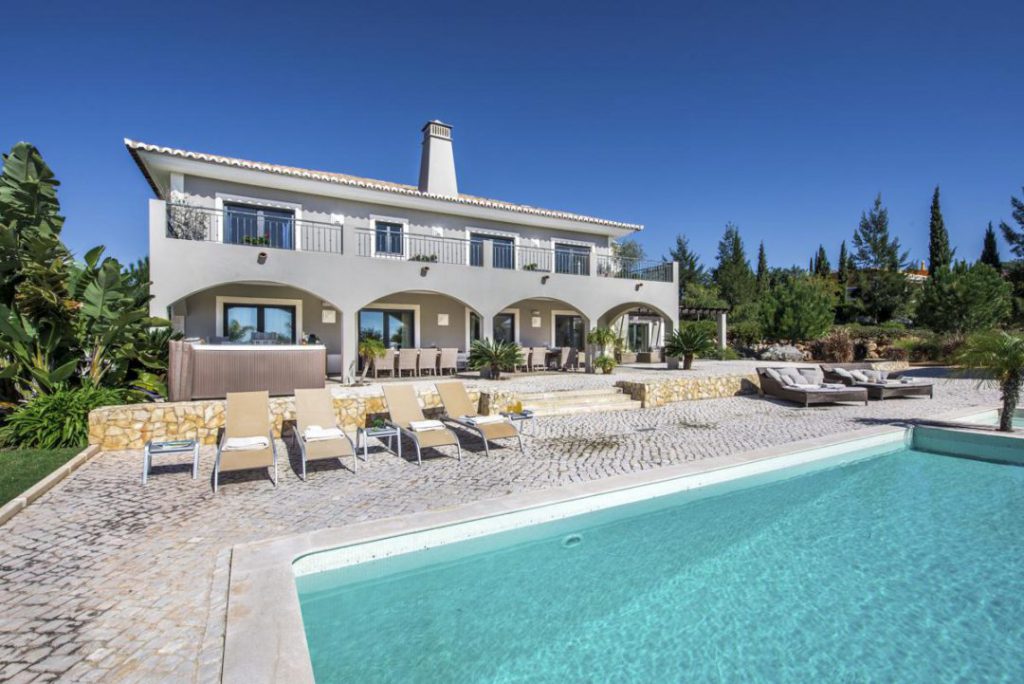 VILLA MALI
Portimão — 14 guests
Villa Mali is a stunning, spacious, luxurious villa. In this house, you will find 6 bedrooms and 6 bathrooms, so you can wonderfully accommodate the whole family.
Surrounded by a spacious terrace and a pleasant lawn area, the villa's swimming pool (10m x 7m) is a real treat. You have many sun loungers and a covered seating area, as well as a barbecue, and a large hot tub. There is also a children's pool for young visitors to enjoy.
Inside, you have a cinema room and a game room with table football, table tennis and PlayStation. The main living and dining room is accessible from the terrace and offers a spacious seating area with large, chunky sofas, a smart flat-screen TV and fireplace. A place to enjoy and have a wonderful time!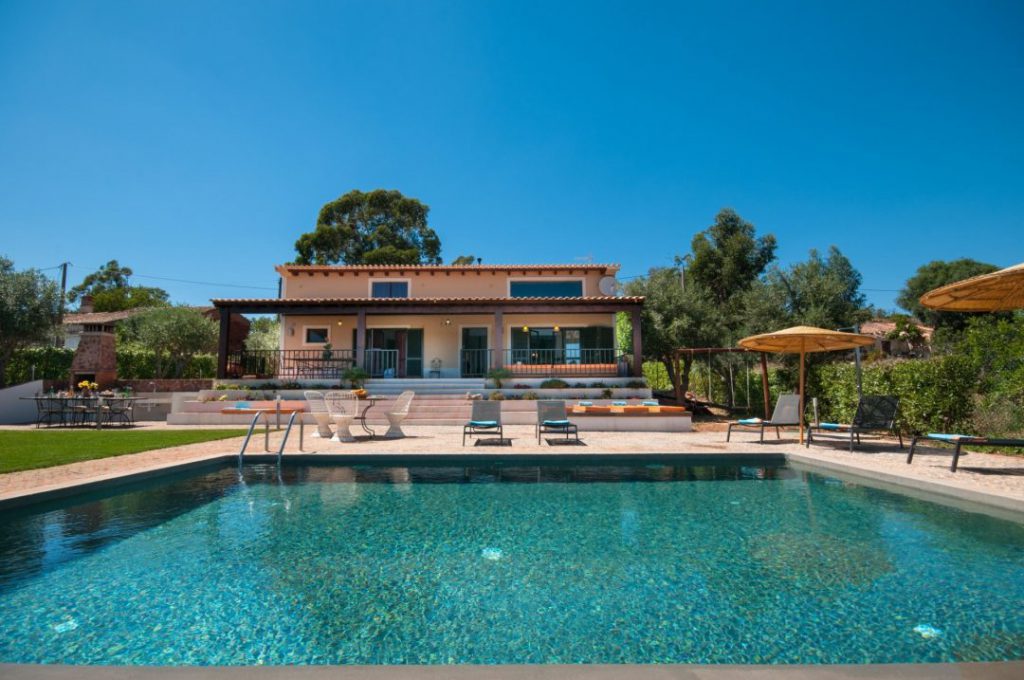 VILLA FUZEIROS
Silves — 16 guests
Villa Fuzeiros is a beautiful luxury villa, situated in the quiet green valley of the little countryside village Vale Fuzeiros. This valley in the interior of the Algarve is covered with hills, vineyards, and orange groves. The villa offers unspoiled views on a private estate of 3000 m2.
As the weather is smooth and warm in the Algarve, you will be living outside most of the time. Villa Fuzeiros is ideal for this. Here you will find a large covered colonial terrace, with ample soft seating and a large Moroccan table and chairs. It offers a lovely place to wine and dines.
The house has a well-equipped rustic kitchen, and the spacious living area is connected to it. The bedrooms are very cozy and they all have twin beds.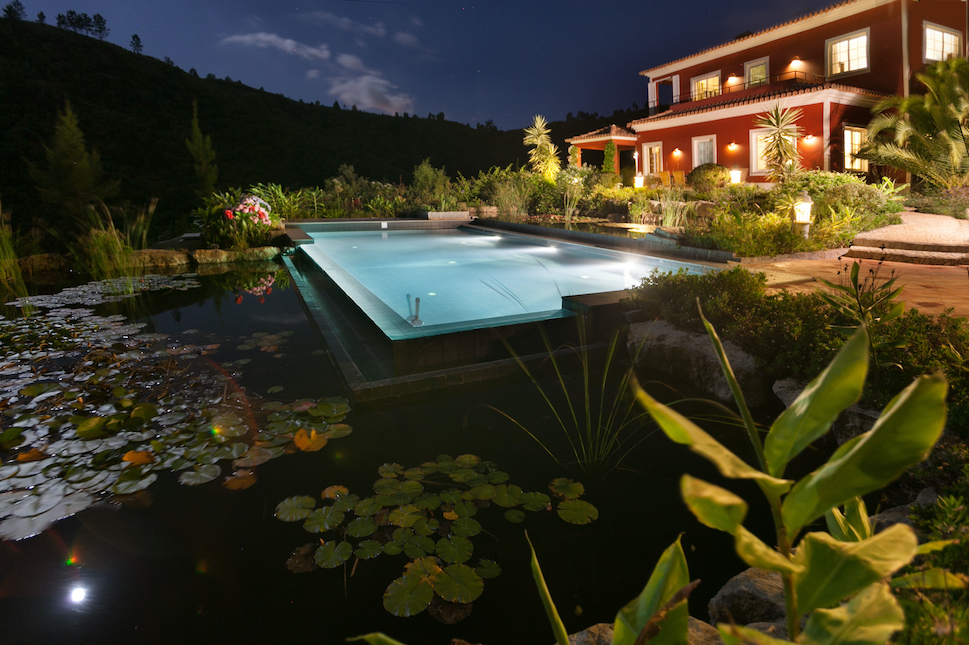 CASA CALDAS
Monchique — 14 guests
Casa Caldas, a villa near Monchique is a true oasis. A perfect holiday villa if you are looking for rest, peace, and being surrounded by nature.
Located near the fairytale village of Caldas de Monchique, the villa is a luxury 7 bedroom, all en-suite, set in 5 hectares of private woodland, in the mountain area, a short drive away from Portimão. Its many terraces, beautiful gardens, and super views will give you a deep feeling of nature connection. The luxurious, unique private swimming pool (5m x 10m) has a saltwater system. The pool is surrounded by ponds with fish, frogs, and water plants.
There amidst the green, you will imagine yourself to be miles away from the city buzz, only surrounded by the sound of water and birds. Casa Caldas was built in 2005.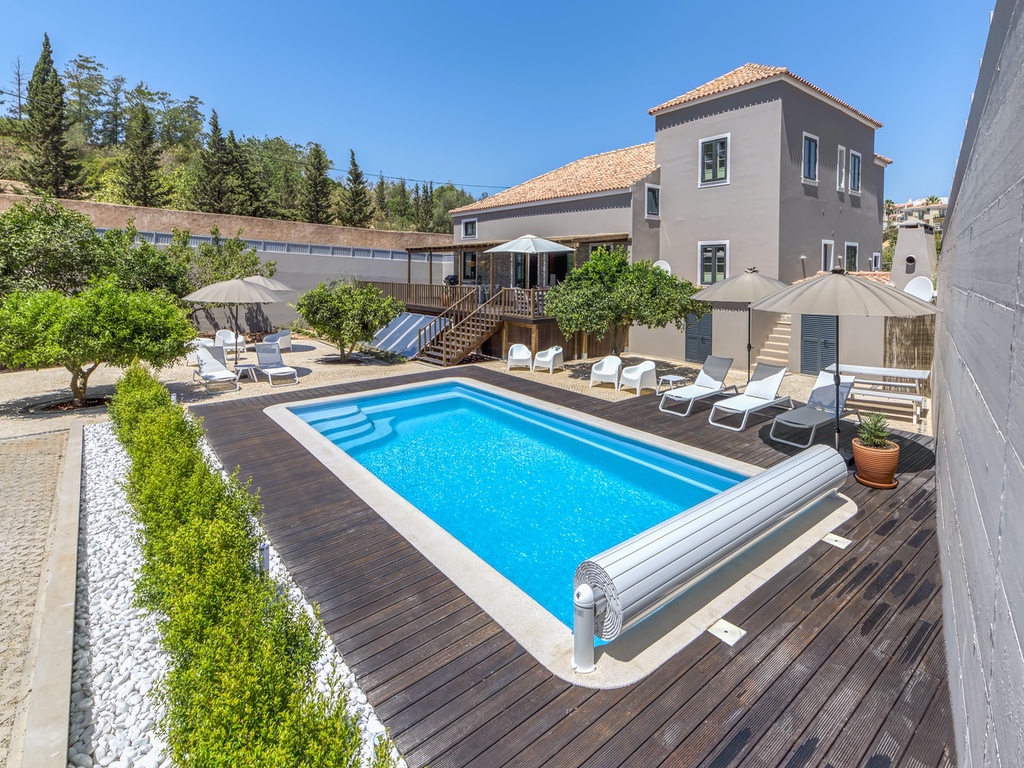 COCHEIRA BEACH HOUSE
Ferragudo — 16 guests
'Cocheira' means 'carriage house', which was the former function of this beautifully located beach house close to Praia Grande, one of the beautiful beaches of Ferragudo. The carriage house used to belong to the neighboring Castle of Ferragudo. However, in the last century, the carriage house has been split from the castle and has gotten its own independent purpose.
In 2016, the current owners started the transformation of the carriage house into a luxury villa – Cocheira Beach House. The result of this transformation is a unique villa not more than 2 minutes walking from the beach, and 5 minutes away to the center of Ferragudo.
The house has 4 en-suite bedrooms at the ground level, the other 4 are on the first floor.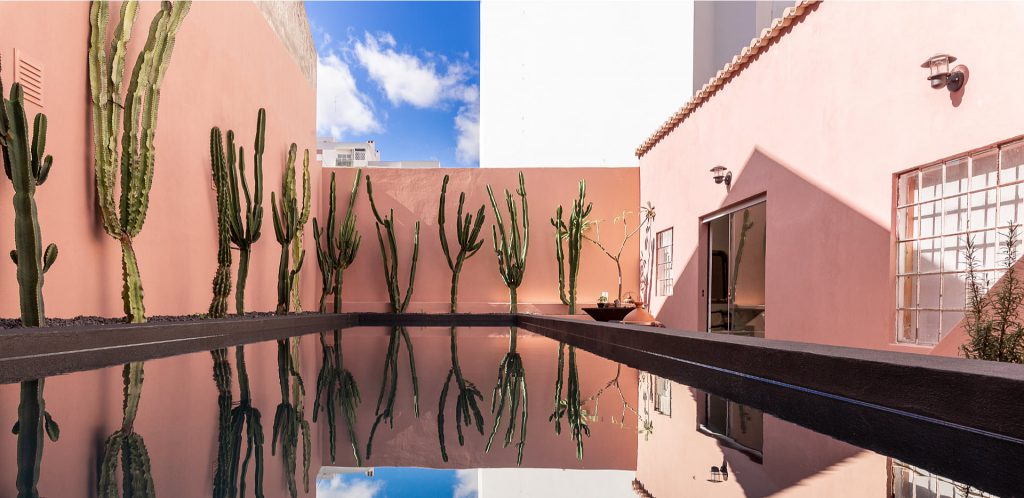 CASA ANA ANA
Portimão — 14 guests
Casa Ana Ana is a newly renovated townhouse with a wow factor in the city of Portimão. If you are looking for a special and artistic location for your holiday, then this is the place to be. In a couple of minutes, you can walk to restaurants and cafés in the historic center, and the beach is very close. The harbor is only a few steps away — where you can book a boat trip along the coastline to beautiful bays and caves.
The iconic building, designed by the owner and artist Eric de Bruijn, has an elegant atmosphere. In every corner, you will find art from Eric's personal collection, which makes Casa Ana Ana unique. In addition, there is a lot of comfort and privacy. The six bedrooms are all equipped with very comfortable beds, air conditioning, fans, shutters to make your room nice and dark, and even lights that you can change color to your own taste.
The house has two, fully equipped, kitchens, perfect for family meals — and many dining areas, indoor and outdoor.